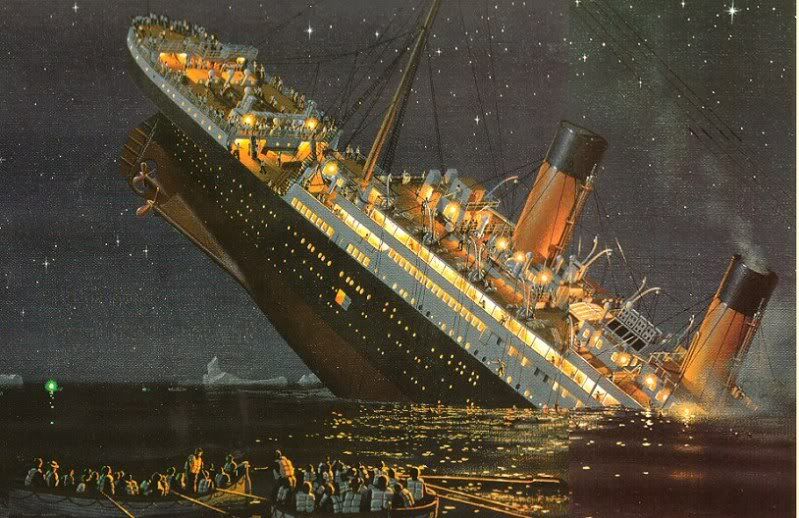 The year is 1912, and your character has just boarded the finest and most majestic ship ever built, the RMS Gargantuan. Whether they're First Class, Second Class, or too broke and have to go Steerage, they've all boarded by the midnight on the 14th, and the cruise is well underway! It's a little early in the year to cross the Atlantic, but this ship is unsinkable, and the Captain is positive everything will be fine.
However, at 11:40pm on the 14th, an iceberg will be spotted by the trusty lookout, and just after midnight on the 15th, the ship will hit it. Lifeboat room is hard to come by, so women and children first! At 2:20am, the ship will reach its watery doom, sinking to the bottom of the sea!
~If your character is onboard, they will be cursed to think it's actually 1912 and they are passengers, so feel free to use this post to arrange who your character is! Are they first class or third? Are they a worker aboard? Maybe they're a stowaway! (Please note that your character can't be the Captain or the First Mate as those are NPCs!)
~If your character is of the supernatural variety, they're welcome to remain so, but they may want to keep their powers/abilities hidden, after all, this is 1912 Earth! If your character is not humanoid, they will become so for this curse (or an animal, if your character is more animal than human!) but revert to their usual selves on the 16th!
~Your character cannot leave the ship until it begins to sink, and how they leave then is up to you! Maybe they get on a lifeboat or maybe they don't, but there's no going overboard until the iceberg gets hit!
~If your character is uncursed and on shore, they won't be able to see the ship from the beaches! A foggy mist has risen and has made the ship hide from view. However your characters will still be able to communicate via Network devices!
~If your character should manage to get on a lifeboat, they will dock on the beach at midnight on the 16th. If your character should go to the bottom of the briny deep, they'll return to the City on midnight, unhurt and exempt from City Death!
~For the duration of this curse, the uncursed back on shore can notice a couple of things: first off, that the weather is a little colder than usual! The sharp-eyed will also notice that the
slide
in the
Playground
will be missing! Wherever did it go?
So let us know your questions and get to plotting!